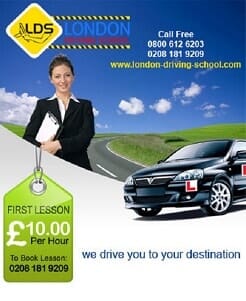 Beginner Driving Lessons in London
London Driving School's beginner driving lessons in London are a perfect fit for anyone wanting to pass their driving test. There is always a sense of trepidation when you start something new or attempt something where you will be under, what you think is, intense scrutiny. The fear of being bad or useless at something is what stops people from doing new things, going new places or trying anything new. That is why people fear the prospect of starting to take beginner driving lessons, you fear the unknown and you fear not being good. We have trained hundreds of thousands of people to drive and yes we have come across some people that required more lessons and those that took to driving very quickly.
All that we can say is that everyone is different, everyone has different skills, different talents and most importantly different learning speeds.
How do I start taking beginner driving lessons in London?


The only other thing aside from nerves that can hold you back from achieving your driving licence is over confidence. Which generally means that the driver on the day of his or her test fails to do the basics, what the examiner wants to see, because they are too confident and rushing.
Whether you are taking driving lessons in Raynes Park, driving lessons in Wimbledon, driving lessons in Morden or driving lessons in Roehampton, you must first apply for a provisional driving licence.
You can apply for a provisional license 3 months prior to turning 17 and even book your first driving lesson in south west London for the day of your birthday!
Need a Driving Test at short notice Late Cancellation Driving Test Dates
See our Top Driving Test Tips in London
How Many Beginner Driving Lessons Will I Need?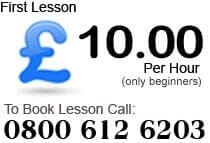 Thanks to the high quality of all our driving instructors in South West London, your driving instructor will be able to accurately predict how many beginner driving lessons you will need right after your first driving lesson.
On average a total of 45 hours total driver training time / lessons is required, with half of those hours in private driving lessons. Should you wish to learn in the quickest possible time, take a look at our intensive driver training courses in London.
More Students Pass Their Test First Time in London With LDS Than With Any Other National Driving School!
It's a fact. With over 97% of our pupils saying that they would recommend us over other driving instructors.
When you learn to drive with London Driving School South west London Branch, you get the following as standard: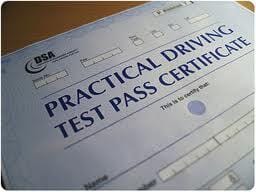 A Brand New Car To Learn To Drive In.
Expert, Fully Qualified, DVSA Driving Instructors.
First Beginner Driving Lesson Just £10!
£2 Per Hour Discount On Any lesson Booking Over 11 Hours.
Pick-Ups and Drop Off at a Time and Place To Suit You.
Welcome Pack Including Car Insurance and Breakdown Discount Covers
Full Beginner LDS Syllabus, Driver Training Record and Driving Instructor Code of Conduct
Pass Plus Driving Lessons support after you pass
Find out more about how you can pass your test in a matter of days or weeks with our intensive driver training courses in South West London.


That's right! Get your first driving lesson in London for only £10* *Note – Please note this is a full 1 hour beginners driving lesson and is designed for in-experienced, new and beginner drivers only. Call 0800 612 6203 CALL US TODAY
Call the London Driving School on 0800 612 6203 For all your motoring needs go with the No.1 driving school in London.
Call 0800 612 6203
Why not try us out with one of our introductory driving lesson in Clapham for only £10 also covering the areas of Tooting and Battersea.