Driving Courses in London
Your LDS safe driving courses will help you to read the road environment, recognize potential risks and avoid potential accidents. It is one-on-one, conducted on-road in the real traffic environment, tailored to your driving needs. The training comes to you, we pick you up and drop you off at the times and locations suitable to you on the day.
Our service and approach is second to none. We quickly assess your driving skill level and tailor your driving course to address your individual needs and requirements. One-on-one tuition from our experienced and approved driving instructors ensure results come fast. We will have you fully licensed and on the road driving in no time with our unique driving courses in London.
The Driving Courses listed below are available at driving schools in Wimbledon SW19, Putney SW15, Croydon, Southfields, Roehampton, Southfields SW18, Clapham SW4 and in South West London.
Your London Driving School provides driving courses in London tailored for you: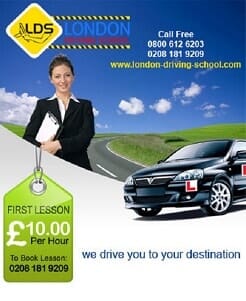 Refresher Driving Courses London, This driving course is ideal for those wanting to brush up on their driving skills, for those who have not driven in the UK or London and what to brush up on their existing motoring skills.
Advanced Driving Courses London, for those experienced drivers in London wanting to take their driving skills and ability to the next level, ideal for businesses and professional drivers.
Motorway Driving Courses for those drivers who have already passed their driving test and are wanting to gain extra confidence and experience in their motorway driving abilities.
Pass Plus Driving Courses London, to give drivers extra confidence once they have passed your driving test, in Some London Boroughs you'll get discounts on these driving courses along with substantial insurance discounts when you go to insure you and your car.
Crash Driving Courses and Lessons in London, Simply put another name for intensive driving lessons, See below.
Intensive Driving Courses in South West London for those needing to learn quickly due to a career change, house move or an ultimatum from a loved one.
Beginner Driving Lessons South West London for Beginner drivers of all ages and confidence levels, if you are a beginner driver try "Your London Driving School" out for only 10 pounds
Automatic Driving Lessons in London for those drivers unable to work a manual car, clutch and gears proficiently enough to pass their driving test and need a driving licence,
Automatic cars are simpler to drive but please note that if you pass your test in an automatic car you cannot drive a manual car unless you pass your driving test in a manual car also.
Practical Driving Lesson in South West London, all our driving lessons are car based, so essentially practical, to ensure you spend your time learning to drive in a car, ensuring you build your confidence and experience whilst sitting behind the wheel of a car. This is the best way to learn to drive.
Exclusive Driving School Offers
Why not try us out with one of our introductory driving lesson in Clapham for only £10 also covering the areas of Tooting and Battersea.
That's right! Get your first driving lesson in London for only £10* *Note – Please note this is a full 1 hour beginners driving lesson and is designed for in-experienced, new and beginner drivers only. Call 0800 612 6203 CALL US TODAY
Call the London Driving School on 0800 612 6203 For all your motoring needs go with the No.1 driving school in London.